* = available in 20 watt systems built to order

New: 20 watt systems are now in
and available for most models.

New: 30 watt systems are now in
and available for some models.
I build them to order

Custom branding options are being offered with bulk order & discounts for resellers.

Email me for more info.


Bulbs getting expensive or hard to find?

Electronic parts starting to fail or fall apart?

Purchased an old microscope that is missing the illuminator?

Fewer companies are manufacturing these bulbs leaving us to rely on old stock that is vanishing from the market.

Avoid the hassles of tracking down rare bulbs.

No need to modify your classic microscope.

Updated illumination you need to keep your vintage microscope in service once and for all.

Bright 50,000 hour rated LED may be the last illuminator you will need to purchase.
Vintage microscope LED retrofit kit:
- Simple
- Low cost
- Efficient
- High-brightness
- Dimmable
- Long lasting

Download Information sheet PDF

We are adding new models all of the time. Keep checking in with us

For any questions please contact us by clicking: (email link: info)

For POs contact me directly at:
Currently we do not offer net-30

(Click here ) to See a review of this product by James Averill

Bunton Instrument Co., Inc - www.buntgrp.com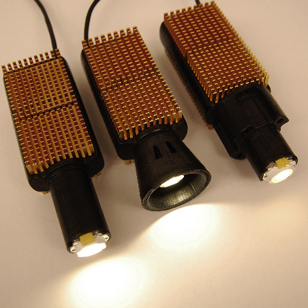 Outfitted with a high-power white light LED & dimmer control box, this 800 lumen source can cover even the more photon hungry applications such as oblique, epi & dark field microscopy.

Need more power? Ask us about our 20 watt systems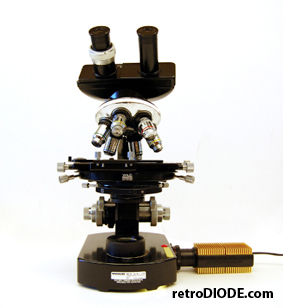 These LED kits fit a variety of scopes.
Click through our links listed above to find yours.
Your scope not listed above?

3D printing design and production techniques allows us to offer custom designs to fit our LED illuminator system to your unique microscope.

For more Information
Contact by clicking:
(email link: info)